United European Car Carriers (UECC):
Terminal St. Petersburg:
UECC
United European Car Carriers (UECC) is the leading provider of high quality short sea transportation services for cars and other rolling cargo on the European continent.
UECC was founded in 1990 and is jointly owned by Nippon Yusen Kabushiki Kaisha (NYK) and Wallenius Lines. UECC head office is located in Oslo, Norway.
UECC provide safe and secure short sea transportation of factory new cars and light commercial vehicles. UECC also offer transportation of a wide range of high and heavy and static cargo.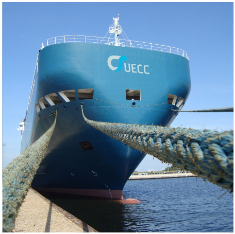 UECC's LINER TRADING NETWORK covers Europe from the Baltic Sea to the Mediterranean Sea, including North Africa and connects the ports:
St. Petersburg (Russia)
Bremerhaven (Germany)
Drammen, Oslo (Norway)
Gdynia (Poland)
Hanko, Kotka, Uusikapunki (Finland)
Malmo, Wallhamn (Sweden)
Southampton, Portbury (United Kingdom)
Zeebrugge (Belgium)
Pasajes, Santander, Vigo, Tarragona, Malaga, Sagunto (Spain)
Rotterdam (Netherlands)
Le Havre (France)
Livorno (Italy)
Piraeus (Greece)
Autoport, Borusan (Turkey)
Presently the company's fleet consists of 23 vessels with a capacity of 850 to 4.5 thousand cars.
Every year the UECC line carries out about 3,500 calls to 40 different ports.
The annual volume of transportation is about 1.6 million vehicles and more than 25 thousand units of bulky goods, including goods on roll-trailers.
The company has 8 offices and owns its own terminals in 4 ports.
The company has 334 employees.
More than 45 agencies represent the company's interests in different countries.
Since October 01, 2018 TRANS-Log LLC (St. Petersburg, Russia) is a ship agent of UECC.
Since January 01, 2019 LLC TRANS-Log (St. Petersburg, Russia) is a cargo agent of UECC.
Central office of United European Car Carriers is located at
Karens-Alli 57 0277 Oslo, Norway
Phone: +47 21 00 98 00 Fax: +47 21 00 98 01
Registration number: PT 511 163 924
VAT number: 35417605
Official website - www.uecc.com