Ferry line Finnlines RUS:
Terminal St. Petersburg:
Finnlines RUS
The company Trans-Log LLC is the general agent of the Finnlines RUS ferry line as part of the Finnish shipping company Finnlines Plc.
Finnlines Plc is one of the leading European ferry carriers with a well-developed network in the Baltic, the North Sea and the Bay of Biscay.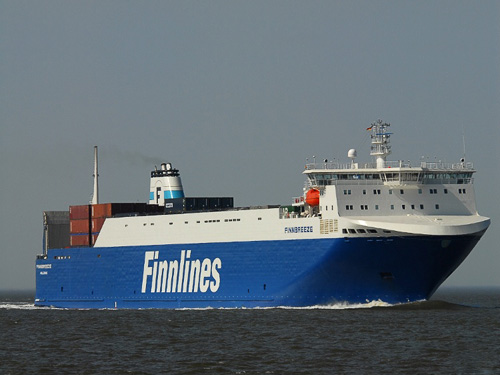 Since February 1997, Finnlines Plc vessels have been making regular calls to St. Petersburg from / to the following European ports:
Lübeck, Germany
Bilbao, Spain
Antwerp / Zeebrugge, Belgium
Hull / Tilbury, UK
Helsinki, Finland.
Finnlines Plc is part of the Grimaldi Group, which is the largest ocean ferry carrier and connects Russia through the transit port of Antwerp (terminal AET 1333) with the following countries and directions:
The Mediterranean Sea
North-West Africa
North and South America.
Finnlines Plc is served by modern ro-ro vessels - Finnbreeze, Finnsky and Finnsun - built in 2011-2012.
MSCC Bronka is the main port of call from 2017.